It is incredibly important to know your HIV status and the only way to know for sure is to get a test. Everyone should be tested for HIV at least once to establish their status, but people who are at a higher risk of contracting should get tested more frequently. The CDC recommends that people who are at a higher risk (i.e. sexually active or use intravenous needles) should be tested every 3 to 6 months.
Sadly, many people do not get tested enough or even tested at all. The latest estimates state that close to 40% of Americans have never received an HIV test and sadly 13% of the 1.2 million people who have HIV don't know their status.
There are many reasons why people do not get regular HIV tests. Typically, these tests are given at the doctor's office or a clinic. People with limited transportation or busy work schedules may not be able to get to these facilities. There is also the unfortunate stigma in society regarding HIV – so people may not be comfortable asking to get tested.
Thankfully, getting an at-home HIV test could be the solution. This option is far more convenient, especially for people who aren't able to get to testing facilities regularly.
But how accurate are home HIV tests? Are they a viable replacement for traditional lab tests?
Let's find out.
How Does HIV Testing Work?
First, it's important to understand the basics of HIV testing. HIV is a virus, so it is detected through an antibody test. The virus can be detected in as little as 2 weeks after exposure with up to a 99% accuracy rating.
There are several types of HIV tests that doctors give out, depending on the estimated time between exposure. Most tests have the highest accuracy when they are given 3 months after exposure. 3rd generation antibody tests are the most common and require a blood sample that is tested at a lab. 4th generation antibody/antigen tests can detect HIV within just 1 month of exposure. Results from these tests take a few days to a few weeks, but they are highly accurate.
Rapid tests are also available for faster results within just 20 minutes. However, the accuracy rating for rapid tests is lower, so a doctor may recommend a second test if the results are positive.
Normally, a doctor will draw a sample of blood for testing, sometimes it is done through saliva or urine testing. The cost of this type of test is typically covered by insurance. Many healthcare and STD clinics offer free or discounted testing services.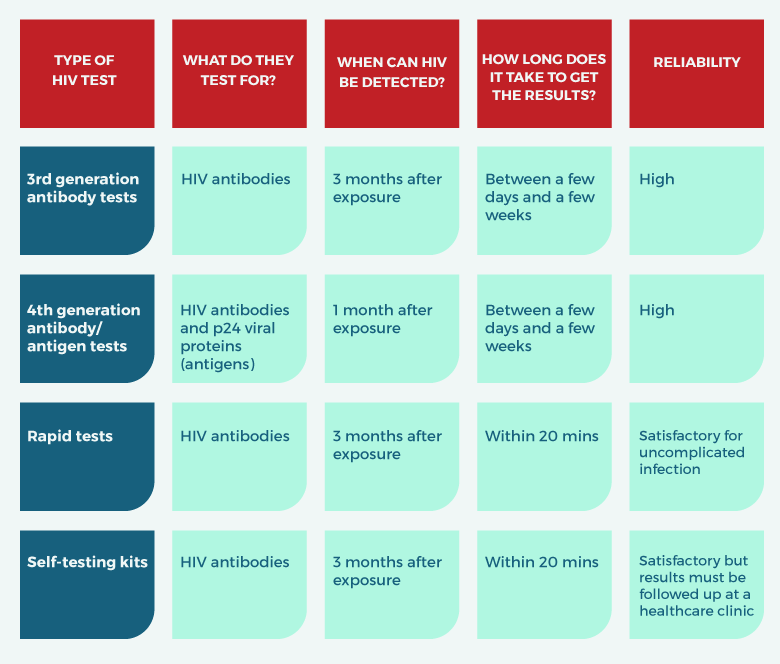 How Can You Test Yourself for HIV at Home?
Being able to conduct an HIV test at home is one way to encourage more people to stay aware of their status. There are currently two different types of at-home HIV tests available
There are 2 kinds of at-home HIV tests available.
The first is an HIV rapid home test kit which can be purchased online or at some pharmacies. Most of these tests require a saliva sample and can provide results within 20 minutes. The OraQuick In-Home HIV test is approved by the FDA and it is very simple. You simply open the sealed test tube and remove the test stick. Insert the test stick into your mouth and swipe it along your top and bottom gums, then insert it into the test tube. Within 20 minutes, the test results will display either a negative or positive result.

The other option is to use a main-in self-test. You will request the at-home HIV test from your healthcare provider or through an online service. Most mail-in tests require a small blood sample, often from a finger prick. The sample is returned to a lab through the mail for testing, which is given in a few days or weeks.
How Effective Are Home HIV Tests?
There are some concerns regarding the accuracy of an at-home HIV test. One study compared the results of the two types and concluded that tests given by a healthcare professional were 99.3% accurate, whereas self-administered tests were 92.9% accurate.
The OraQuick At-Home HIV test has been approved by the FDA, as it meets their standards for accuracy. However,evidence shows that about 1 in 5,000 of these tests resulted in a false-positive, and 1 in 12 were false negatives.
Generally speaking, an at-home HIV test is considered to be about as accurate as a rapid test at the doctor's office if it is conducted correctly. However, they are slightly less accurate than a 3rd or 4th generation antibody test.
One reason that the test results from at-home HIV tests may not be entirely reliable is due to the testing process. You would need to follow the instructions perfectly to ensure an accurate result. There are far more variables when it comes to at-home testing compared to a healthcare clinic. If you miss a step or accidentally compromise the sample, you could have a false result.
Pros and Cons of At-Home HIV Tests
There are many reasons why getting an at-home HIV test is a great option. First, they are far more convenient than going to a doctor's office or clinic. People who may not have transportation or have other mobility issues will find this to be far easier. Additionally, a rapid HIV test at home can give you instant peace of mind since you'll get results in just 20 minutes.
However, unless you are a medical professional yourself, there is the risk of getting false results if you do not follow the directions correctly. Further, there is the risk that your test results could get lost in the mail.
There are certain situations where at-home HIV tests can be a valid option. For instance, if it is easier for you to do routine at-home tests as opposed to visiting your doctor, then this is a great alternative.
However, an at-home HIV test may not be the best way to determine your status if you are sure you have come into contact with HIV. Further, if not enough time has passed since the time of contact, the results from an at-home test might not be reliable.
What Should I Do if My At-Home HIV Test is Positive?
If you use an at-home rapid HIV test and get a positive result, you should immediately contact your doctor. They will likely recommend that you get a second test from a healthcare professional to confirm the results. False positives are a possibility, so you will want to confirm the test's results.
If you are at high risk of HIV, your best option is to talk to a doctor about taking PrEP. This will protect you from the risk of HIV transmission. PrEP is a medication regimen that can reduce the risk of HIV transmission by up to 99% when taken as directed.
Wrapping Up
At-home HIV tests are a viable and convenient option to check your current HIV status. However, one of the best ways to safeguard yourself and others from HIV transmission is to talk to your doctor about taking PrEP.
If you would like to learn more about PrEP or have questions about how to pay for this medication or talk to your doctor about it, please reach out to us at PrEP Daily. Our team of navigators will connect you with a healthcare provider to move forward with your next steps.