In 2012, the fight to end the HIV epidemic changed forever. A new medication called Pre-Exposure Prophylaxis (PrEP) was approved by the FDA as an effective medication to prevent sexual transmission. The first form of PrEP for HIV was Truvada, a prescription medication that showed up to 99% effectiveness at preventing transmission.
Although the drug was approved for use for all genders, it was also heavily marketed toward the LGBTQ community. And when the drug was initially developed, it was primarily studied within groups of men and transgender women who had sex with men.
However, anyone who is sexually active or who participates in certain behaviors is at risk of HIV transmission. New reports are also showing that now more people who identify as heterosexual are being diagnosed with HIV than gay men for the first time.
There are now multiple forms of PrEP for HIV prevention that have been approved. But is it only safe for gay, cisgender males to take – or can other genders and people of varying sexual orientations take it as well?
1. Who is At-Risk of HIV Transmission?
First, it is important to understand why PrEP was first primarily prescribed to gay men.
Men who have sex with men and or who identify as bisexual make up the highest population of new HIV diagnoses, and most new cases are attributed to male-to-male sexual contact.
Less than one-fourth of new HIV diagnoses are amongst heterosexual men and women.

Although cisgender males who have sex with men make up the highest category, other populations are at risk, too. The fact of the matter is that people of all genders and sexual orientations are at risk. There are still thousands of straight men and women as well as transgender folks who are diagnosed with HIV.
Sadly, many of these at-risk populations are not taking PrEP for HIV prevention. A recent study published by UCLA found that just 3% of transgender adults who were considered high risk were currently taking PrEP – and more than half even knew about the medication option!
Data from the CDC also shows that women are far less likely to go on PrEP than men (according to the sex assigned at birth). However, we know that virtually anyone who is sexually active regardless of gender or sexual orientation is at risk of HIV transmission. So, is PrEP available for all populations?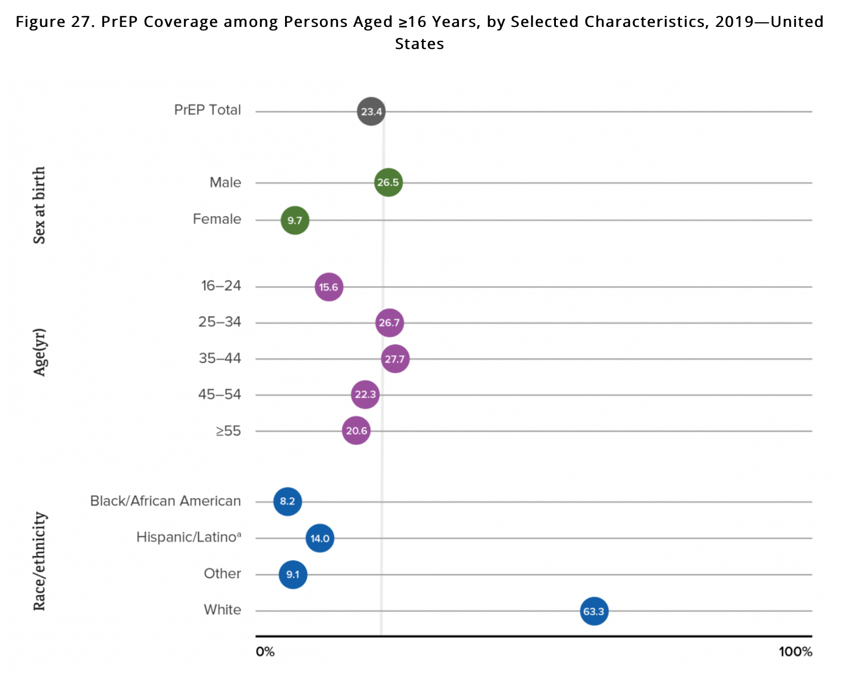 2. Has PrEP Been Approved for Women and Trans Folks?
Multiple forms of PrEP have been approved by the FDA for HIV prevention. As mentioned, Truvada was the first medication and it is available for use in all genders and for adolescents weighing over 77 lbs.
Descovy is another prescription for PrEP for HIV prevention. One of the main differences between Descovy and Truvada is that this is currently only approved for cisgender males and transgender females. There are currently studies being conducted to determine if it is safe for cisgender females and transgender males. More recently, the FDA approved an injectable form of PrEP called Apretude. This treatment is administered every two months and has been approved for use in all genders.
Now, there are some things that cisgender women and transgender folks should know about PrEP. Some women are worried that PrEP could affect their overall health, such as their fertility. However, studies have concluded that PrEP has no negative effects on women's overall health and it is even safe to take during pregnancy.
Both trans men and women are often worried that PrEP could interfere with hormone replacement therapy (HRT). But using PrEP for HIV prevention for both trans men and women taking HRT is perfectly safe. Medical studies have also concluded that PrEP has no impact on HRT levels for both testosterone and estradiol.
3. Different Ways to Take PrEP for HIV Prevention
The most common way to use PrEP is as a daily medication. Truvada and Descovy are both recommended to be a daily regimen as continuous use helps to support their effectiveness. However, you can opt to take this medication as an on-demand dosage.
On-demand dosage (also called 2-1-1 PrEP) requires that you take 2 dosages of PrEP 2 to 24 hours before having sex. This must be followed by 1 pill 24 hours after the initial dosage, with a final single pill 24 hours after that. This has been proven to be effective if the correct dosage and timing are followed.
The injectable version Apretude is a great alternative for all genders, as this requires a dosage every two months. This is shown to be just as effective at HIV transmission prevention as the oral medication version.
4. Accessing PrEP for the First Time
The first step to going on PrEP for any gender is to talk to a doctor, as it requires a prescription. You will need to take an HIV test and you may need to discuss your medical history to see if the medication is safe for you to take. From there, you may want to discuss the different options of taking PrEP for HIV prevention.
The cost of PrEP is required to be fully covered under all private insurance policies – meaning you won't pay anything out of pocket for your prescription. If you are uninsured or you have Medicare or Medicaid, there are cost coverage options. Organizations like Ready, Set, PrEP, and Gilead's Medication Assistance Program can help you find more affordable options.
As a cisgender woman, trans person, or someone who identifies as non-binary, it can be a bit scary to bring up this subject with a medical professional. Chances are you will have a lot of questions – and your doctor may need to ask about your sexual history to determine your risk factor. But remember that your health needs to be a priority. By going on PrEP, you can protect yourself and others from HIV transmission and help to end the epidemic!
Want to Learn More About Going on PrEP for HIV Prevention?
PrEP is one of the most effective ways to safeguard yourself against HIV transmission. There are now more options than ever before and research to back up its safety and effectiveness for people across the gender and sexuality spectrum.
At PrEP Daily, our goal is to help anyone and everyone access PrEP, regardless of their gender or sexual orientation. We can help you find local testing sites, medical clinics, and other organizations in your area to help you access PrEP. Get in touch with one of our Navigators today to learn more!